Crocheted Flowers for Charming Interiors
Download this page in PDF format
Look what a miracle! These flowers, though they are crocheted, it seems that you can feel their fragrance. But what one can see exactly is their beauty and charm, but also one can feel the warmth of handmade work and love invested in a bunch by the author.
Handmade Greeting Card Adorned with Crocheted Flowers
These Crocheted African Violets Will Never Require Watering,These Pieces of Joy Will Blossom Every Day
It is the marvellous thing to adorn your  office desk,  it will become  an unusual and unique gift. Everyone will appreciate a piece of colour, especially in the winter season!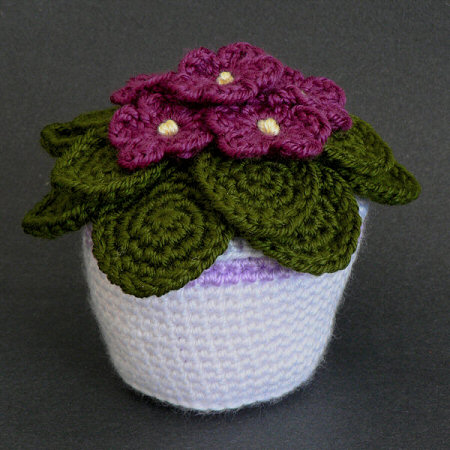 These Crocheted African Violets are Amazing in Any Floral Design
Crocheted Cactuses are Original in Any Interior
Perpetual motion of crocheted flowers
Of course, this is not  perpetual motion, but light, delicate, bright flowers, hanging from the ceiling will truly be always in motion by the mere circulation of air in an apartment

Small Crocheted Flowers of Different Colours Adorned with Beads
Then look at other beautiful crocheted flowers, though these are artificial, but they will sure bring joy for your  eyes
Crocheted Roses
Crocheted Bamboo
Crocheted Plumeria
Crocheted Lotus / Crocheted Lily
Crocheted Daffodils
Crocheted Poinsettia, Crocheted Christmas Star